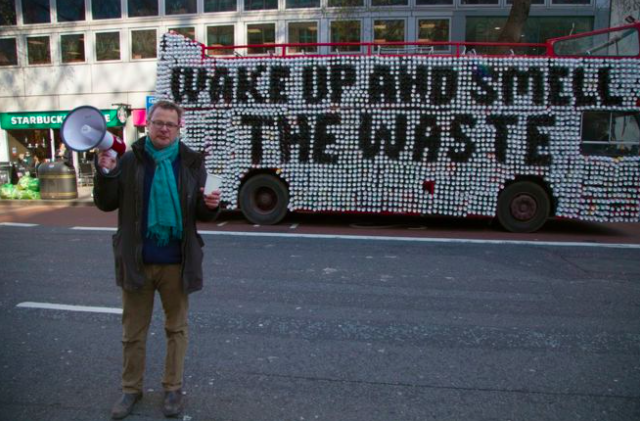 Myth
Most people believe disposable coffee cups can be recycled or composted.
Reality
The mixture of plastic and paper in the lining makes them difficult to recycle; compostable cups can only be composted in high-heat, industrial composting facilities, not your backyard worm farm.
https://www.bloomberg.com/news/articles/2019-04-28/starbucks-sbux-dunkin-dnkn-brace-for-coffee-cup-bans-fees
---
Myth
Just one cuppa is no big deal.
Reality
Just one takeaway cuppa per day amounts to over 50 kilos of waste per year. 1 in 5 people visit a coffee shop daily and 120 billion coffee cups are thrown away every year in the US – one fifth the global total. In the UK, 2.5 billion are tossed in the tip annually.
https://www.bbc.co.uk/programmes/b06nzl5q
---
Myth
If you don't offer takeaway cups, your business will suffer.
Reality
In June 2018, UK-based coffee shop Boston Tea Party completely removed single-use cups from its 30 stores. Takeaway sales dropped by 25%, which they anticipated. What they didn't expect: staff turnover dropped to zero, saving the business $1.27 million per year in training costs alone.
https://www.forbes.com/sites/lucysherriff/2019/01/10/recycle-coffee-cups-reusable/#70b1e2db567b
---
Myth
Alternatives don't work. People just want their coffee.
Reality
Shops that offer incentives, like discounts on coffee, see an increase in customers who bring their own cups. Offering in-house mugs and asking customers if they want their drinks "for here or takeaway" increased uptake of reuseables from an average of 18% to 57% during a pilot test.
https://www.bloomberg.com/news/articles/2019-06-09/starbucks-bets-london-airport-can-crack-the-reusable-cup-code
---
Find more facts and resources for dealing with the problem of sip and tip HERE.
http://www.recyclingadvocates.org/single-use-coffee-cup-reduction/