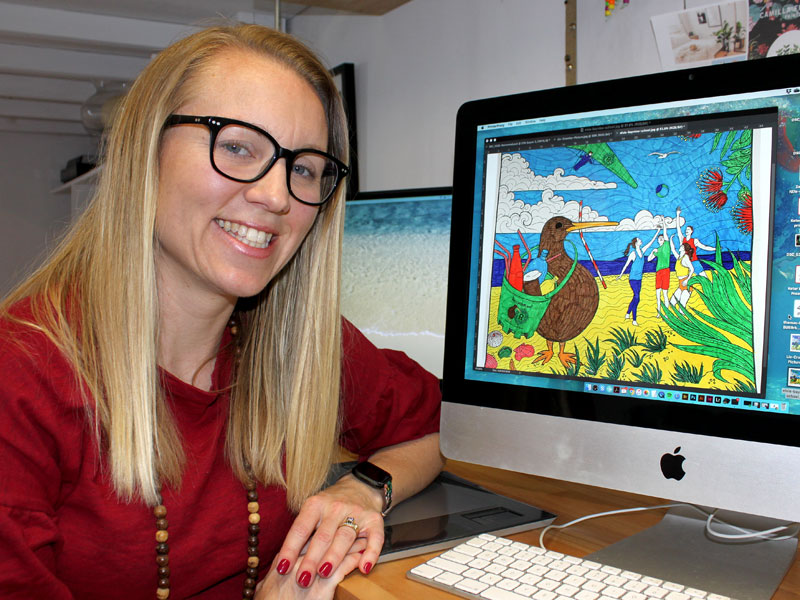 When Zoe Sizemore began designing RecycleKiwi's colouring-in picture she didn't have to look very far for some young eyes to critique her work.
The Papamoa artist's two children, aged 5 and 7, were the first to see the initial design of the iconic beach scene. The pair were very eager to be involved, says Zoe.
"They are really into colouring and drawing and they gave me a lot of useful feedback."
After the youngsters began colouring-in the first draft, Zoe used their feedback to make some minor adjustments to the layout to finalise the beach scene.
"I could tell some areas were just a bit too small for them to colour so I adjusted the design and gave them another version to proof," she says.
Zoe's finished picture has been proving a bit hit with children throughout New Zealand. Hundreds of schools around the country have received RecycleKiwi resource packs. The beach scene has been used as a classroom colouring-in project.
"I've been really impressed with the creativity and people's use of colour," says Zoe. "I like the way people have coloured the feathers on the kiwi bird. You can see some kids have put a lot of time and thought into it."
A gallery of the completed beach scene can be viewed on the RecycleKiwi website. We have some special prizes to give away for the best coloured-in entries of Zoe's iconic beach scene uploaded to RecycleKiwi. Each term we'll award an art box of resources to three classrooms around New Zealand.
Zoe says having a picture to colour in gives everyone the joy of creating something for themselves, regardless of their ability. "Some children absolutely love the detail and precision of colouring and they might not be able to create something like this on their own."
As well as running a graphic design business, Zoe is also passionate about conservation issues. She has a clothing range using art "to inspire change".
"When you wear a message for positive change it's a conversation starter for more awareness for our planet," she says. "The next generation shouldn't be left to clean up the mess the time for change is now!
"Through our art clothing we seek to bring awareness to the climate issues we are battling for not only our children's future, but the survival of the human race. The time is now to speak up for our planet."