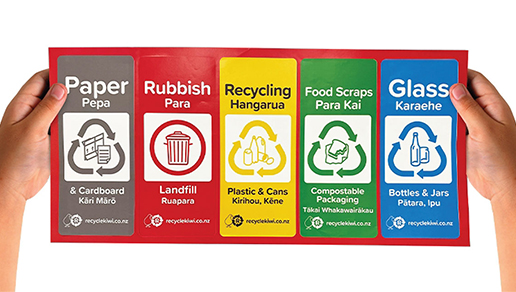 A growing appetite for effective recycling has seen more than 70,000 RecycleKiwi waste separation bin stickers distributed throughout New Zealand.
RecycleKiwi, a public education programme to help improve waste management, was launched 20 months ago by commercial cleaning company CrestClean.
Since then, 3500 free resource packs — including tens of thousands of bin stickers — have been distributed the length and breadth of the country to schools, businesses, large corporates, charities and government departments, including the Ministry for the Environment.
Each sticker set consists of five bin stickers, for each of the five types of waste — recycling, glass, rubbish, paper and food scraps. The aim is that by clearly labelling bins, more items are likely to be recycled correctly, resulting in less waste going to landfill.
"It's really encouraging to see so many schools and organisations taking advantage of these free resources to streamline their waste management systems," says CrestClean Managing Director Grant McLauchlan.
As leaders in sustainable cleaning, with 5000 customers nationwide, including more than 500 schools, CrestClean is perfectly placed to make a real difference in the nation's recycling habits, says Grant.
"We see ourselves as having an important role to play in helping our customers improve their recycling efforts and it's fantastic to see so many of them embrace the RecycleKiwi initiative.
"But what is even more encouraging is the number of other businesses and organisations who have requested RecycleKiwi resource packs, after seeing them in situ and online. It shows that people are ready and willing to make changes, and we are proud to be able to help them do that."
RecycleKiwi focuses on the '4 Rs' of recycling — Refuse, Reduce, Reuse, Recycle.
Resource packs are free and include posters, colouring-in pages and bin stickers — the stickers and posters are bilingual, being in both English and te reo Māori.
"Our drive to improve recycling efforts in New Zealand is part of our ongoing commitment to improve our environmental and corporate responsibility, says Grant.
"Education is key to changing behaviours around waste minimisation, and the uptake of our RecycleKiwi resources suggests that the message is getting through, which is very heartening."
CrestClean's cleaning services are accredited by New Zealand's official eco-labelling programme, Environmental Choice, which independently audits products and services to verify they meet stringent environmental standards. It is one of only two commercial companies to have this accreditation and the only one to provide a nationwide service.