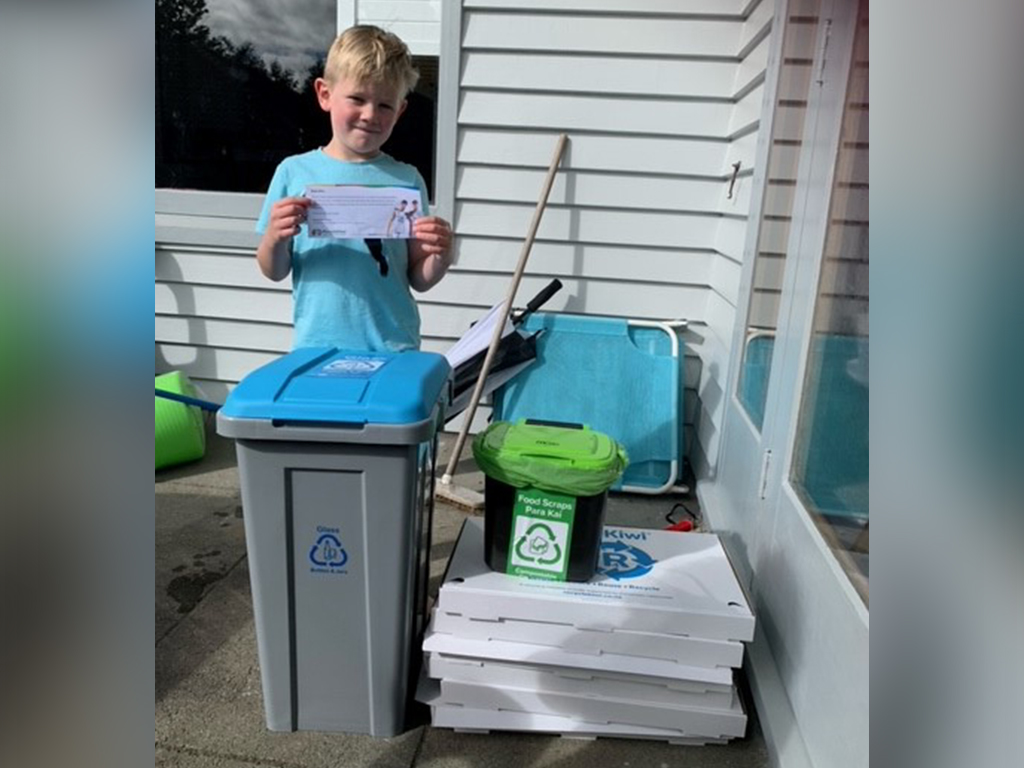 Bins, bins, bins… 7-year-old Ollie Chamberlain can't get enough of them!
So, when he received a pack of RecycleKiwi waste separation stickers in the post, he was super excited and quickly got to work labelling all his bins.
"He spent the day sorting everything," says Ollie's mum, Kirstin.
RecycleKiwi is a public education programme by commercial cleaning company CrestClean, aimed at helping improve waste management in New Zealand.
It provides free, bilingual recycling resources, including bin stickers and posters, to schools and businesses to help them streamline their waste management systems.
Knowing Ollie's passion for bins, Kirstin ordered a resource pack after a friend pointed out the RecycleKiwi Facebook page.
Ollie, who lives in Levin, spends all his spare money on bins and is constantly sorting out rubbish and recycling.
He even checks his neighbours' bins to make sure they are recycling correctly and is not shy when it comes to telling them if they have got it wrong.
"His first word when he was able to talk was 'mop'. He had this obsession with going to the cleaning cupboard and getting the mop out and it eventuated to rubbish bins — and honestly he's so obsessed with them," says Kirstin.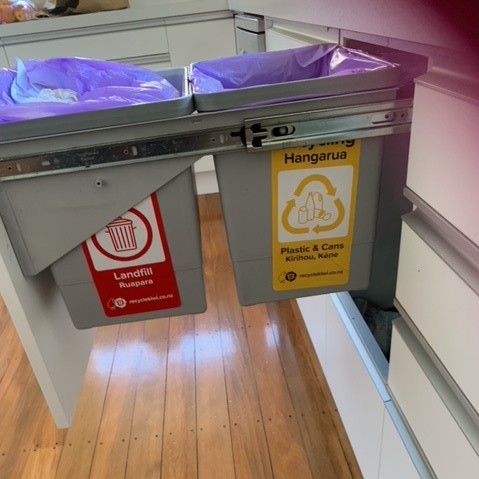 "We've got a bin in every room and he also has bins lined up outside. Every week on rubbish day he takes the bins out and brings them back in. He gets very upset if we do it! And he washes out the bins and inspects them to make sure they're totally clean."
Kirstin says the family has always recycled, but it was the introduction of new recycling bins by the local council that really captured Ollie's interest.
"We got a chart that told you everything about recycling and he just basically went from there, he just loved it."
Luckily for Ollie, his dad, Abraham, works at the council and was able to arrange a ride in the brand new recycling truck when it was introduced two years ago.
"They took him all around town in it and they did a video clip on him, 'Ollie the recycling hero'."
At school he's known as the "recycling king", and he is even preparing a speech as part of his Oral Assessment to share with the school.
"He's on duty to empty all the paper bins and whenever they have school discos and galas he gets all the bins out and he gets really upset when people don't use the right ones."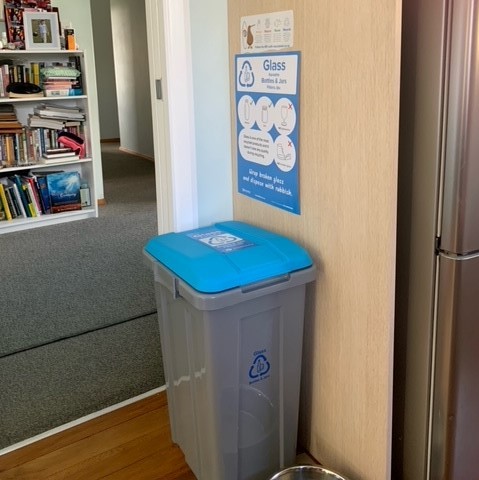 But Ollie's waste management aspirations don't stop there. He has big plans for the future.
"He said the other day he's going to be the manager of a company and he's going to invent something to compost everything and ship it out overseas to help people," says Kirstin.
"He's all about the environment, he's got quite a caring heart. He's amazing."
CrestClean's Managing Director Grant McLauchlan says Ollie's enthusiasm for recycling is fantastic to see.
"When it comes to recycling, kids often lead the way," says Grant.
"We see education as the key to changing behaviours and its really encouraging to see our RecycleKiwi resources making a difference."
Since its launch, RecycleKiwi, we've distributed more than 3500 resource packs, including more than 70,000 waste separation stickers.