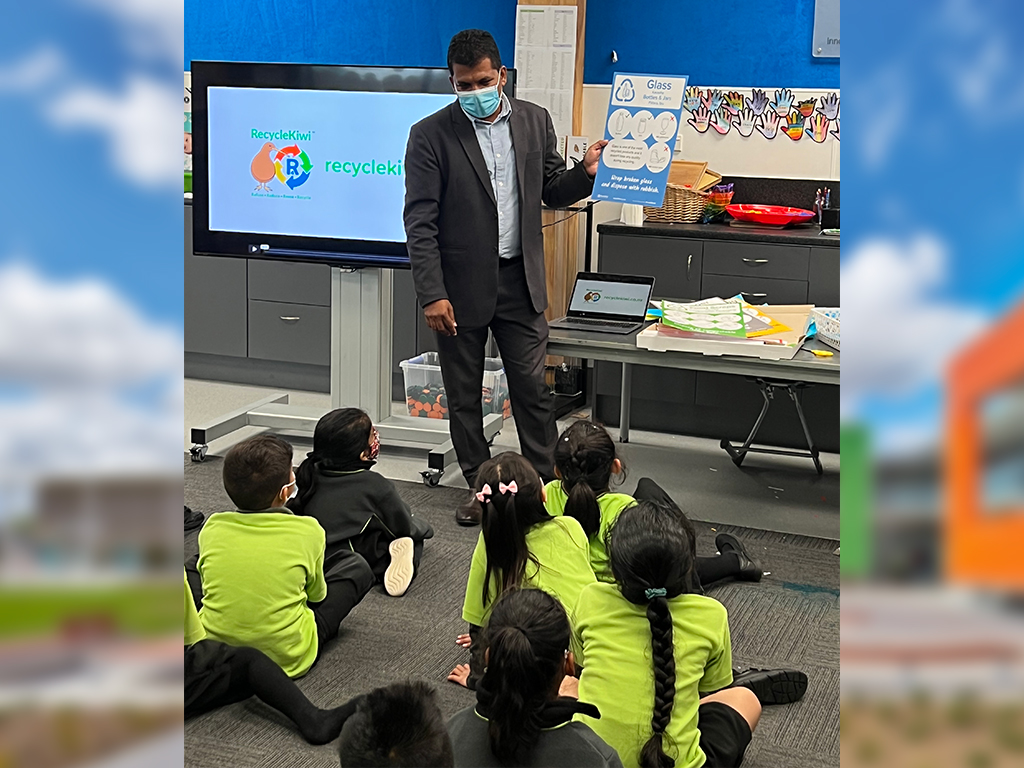 It was back to the classroom for CrestClean's Auckland South Regional Director Viky Narayan when he spent the morning at Ormiston Primary School giving a lesson on recycling.
Viky's daughter Aanaya, 7, attends the school and he visited her class after her teacher expressed an interest in CrestClean's RecycleKiwi programme, which helps schools and businesses improve their recycling efforts with interesting and fun educational resources.
Armed with RecycleKiwi Resource Packs, including bin stickers, posters and colouring-in pages, Viky explained the importance of recycling to the Year 2 and 3 class, and played them a video about the '4 Rs' — Refuse, Reuse, Reduce, Recycle.
"They were really interested and enjoyed telling me about the recycling they are doing at home, how many bins they have and how they help put them out on the kerb for the truck to take away," says Viky.
'They really got the concept of recycling and were particularly excited to get the colouring-in pages."
But the most excited class member by far was Aanaya!
"When I told her I was going to be at her school she was really excited and informed all her friends," says Viky.
RecycleKiwi was launched by CrestClean three years ago. Since then, more than 3500 free resource packs, including 70,000+ bin stickers, have been distributed the length and breadth of the country to schools, businesses, large corporates, charities and government departments, including the Ministry for the Environment.
Each sticker set consists of five bin stickers, for each of the five types of waste — recycling, glass, rubbish, paper and food scraps. The free stickers enable schools and workplaces to set up their own waste separation systems, which are an important part of recycling.